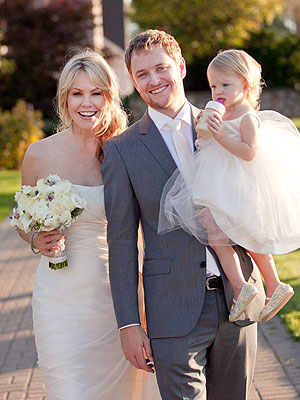 Like many brides, actress Andrea Roth's wedding day is one she will never forget.
But unlike some, Roth, who will soon join the cast of
Ringer
, didn't want her Oct. 7 nuptials to producer Todd Biermann to be all about her.
"My mother, Jane, was diagnosed with stage four brain cancer in January of this year," says Roth, who scrapped her original plan to have a bigger wedding in the Dominican Republic when she learned her mother would not be able to fly.
"She was very weak," the actress, 44, tells PEOPLE, "so we planned our wedding in three weeks near my parents' house."
Roth and Biermann, who met on the set of
Rescue Me
in 2007 (she starred as Denis Leary's wife on the FX drama), exchanged vows at the Vineland Estates Winery in Ontario, Canada. Twelve people, including the couple's 19-month-old daughter, Ava, attended the ceremony and reception.
"You hear about brides stressing over being meticulous – Bridezillas. When you have a baby, you're busy being a mom," says Roth, who wore an ivory eco-couture gown by Canadian designer Adele Weschler.
"Ava got scared, so she walked down the aisle with me," the actress says. "Then, pretty much the whole time we were doing vows, Ava had to be in my arms. When she got tired, she fell asleep in Todd's arms right at the end of the ceremony."
"It was so special," she says. "The three of us, when we exchanged vows [or] the three of us dancing – those are the moments that made me happy."
Making the day even more memorable was the fact that Roth's mom, Jane, was able to enjoy herself more than anyone ever imagined.
"Before the wedding my sister and I weren't sure she was going to make it," she recalls. "They weren't certain she'd even be able to be at the wedding for an hour. But she was determined to be there. She ended up staying for hours and hours."
Since the wedding, "My mother has been getting healthier and stronger," says a grateful Roth. "It could not have been a more perfect day."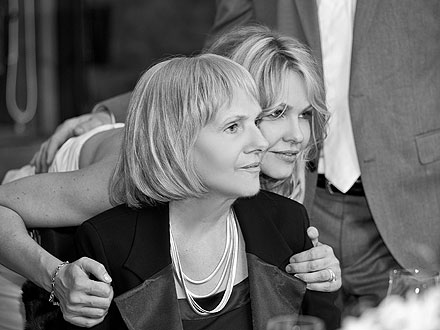 by :people