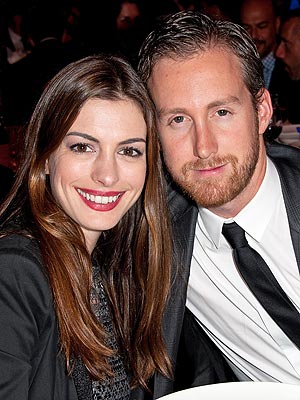 Is the ultimate on-screen princess finally getting her fairy-tale ending?
Anne Hathaway is engaged to wed longtime boyfriend Adam Shulman, 30, whom she began dating in 2008, her rep confirms to PEOPLE.
On Sunday, the actress was photographed sporting a ring in a Brooklyn park along with Shulman.
"I am very much in love with him, [only] Adam totally ruined my plan," Hathaway, 28, previously said of their three-year relationship. "I was really actually looking forward to a little alone time, and then I fell in love like a fool!"
Her relationship with the actor-jewelry designer followed a less happy ending with ex-boyfriend Raffaello Follieri in the summer of 2008, after he pled guilty to 14 counts of money laundering, conspiracy and wire fraud.
"I hate talking about the breakup because I don't want it to define me, but as is to be expected, there were a lot of lingering trust issues," she said last year of their highly publicized fall-out.
Over the summer, she gushed about Shulman at the premiere of her movie
One Day
.
"I'm a romantic at heart," she told PEOPLE. "He's the best!"
by : people