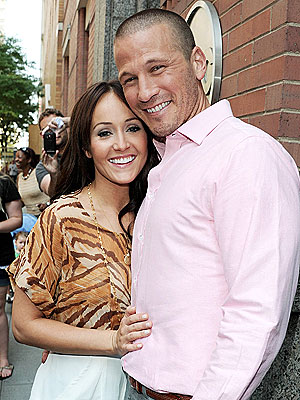 Just because they're not planning a wedding doesn't mean there's trouble in paradise for Ashley Hebert and fiancé J.P. Rosenbaum.
"We're so busy that even if I wanted to plan [a wedding] right now, I don't think I could," the former
Bachelorette
, 26, told PEOPLE at the Dodge Rock 'n' Roll Los Angeles marathon.
Hebert, who is in her final weeks of dental school and currently applying to pediatric residencies in New York, says, "My brain is just not there right now."
But the couple isn't waiting
too
long, and will "start talking about [wedding planning] after the New Year," assured Rosenbaum, 34.
For now, they're just enjoying what downtime they have and getting used to living together in New York.
"My closet space is a lot less now and the place is twice as big," joked Rosenbaum. "But it's her idiosyncrasies that I love and there's no pet peeve of hers that really gets to me."
And what's a favorite date night for the low-key couple?
"We just both have really busy, crazy lives, so staying in, making dinner and watching a movie is my personal favorite," said Hebert.
by: people