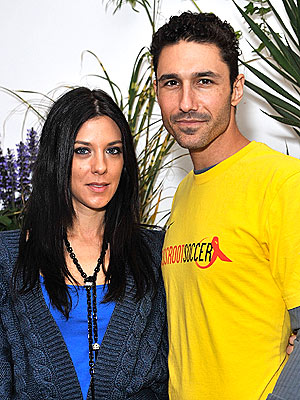 When former
Survivor
winner Jenna Morasca heard the news that boyfriend Ethan Zohn's Hodgkin's lymphoma had returned, she was surprised by her emotions.
"The first time, as devastating and crazy and horrible as it was, I was like, 'Fine, we're going to beat this,' " Morasca, 30, tells PEOPLE.
"This time was a lot more devastating for me because we'd already been through so much. We really had moved on with our life and we had a lot of stuff we wanted to do that didn't involve cancer – I didn't think we'd have to do this again."
But in front of Zohn, 37, who'd been in remission for 20 months, Morasca put on a brave face.
"For him, I'm strong and I put my armor on," says Morasca. "I told him, 'We're going to put things in our calendar. We're going to make plans forever and cancer is going to have to work around our schedule.' "
As a caregiver, though, it's important to her to keep any fears close to vest.
"In front of the person you love, you're unbeatable, but alone I can sometimes be a giant pile of mush," she says. "I don't let him see me that way. If both of us are like that, who's going to rescue us and get us out of the funk?"
"That's what cancer wants, to be a part of your life at all times. Sometimes the hardest part about fighting cancer is not allowing that to happen."
Full Speed Ahead
Zohn's new chemo treatment, SGN-35, which specifically targets the cancerous cells, has enabled the couple to get on with their life. "It's weird because he doesn't look sick and he doesn't act sick but inside he still is," she says.
"He feels great, he can travel and he's still running the marathon, which I think is crazy! But I think he's running it for everyone who has suffered from cancer. He's not going to let it stop him."
The couple isn't going to stop planning their future together, either, all the way down to their wedding vows.
"When we do get married, that whole 'in sickness and in health' is a joke," says Morasca. "Just take that out, we already did that. You just realize how much you love each other and you want to continue on as planned."
by: people