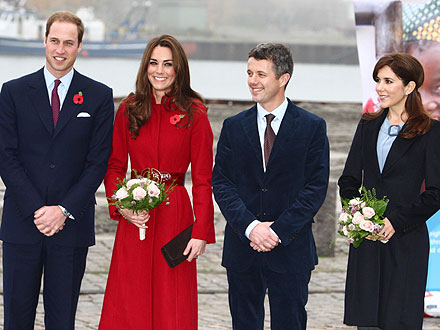 The Duke and Duchess of Cambridge spent Wednesday working on behalf of millions of famine-hit children in Africa – and donating funds that will send crucial medical help and food to ease the tragedy.
Speaking at the end of a day spent at a Copenhagen UNICEF supply center that provides aid to East Africa, Kate said: "It's really shocking. It's been going for 100 days or so and a huge amount still has to happen with hundreds of children malnourished at the moment. Hopefully we can do as much as we can."
Urging others to help, William added, "The rains have come now and, as hopefully you've all heard from the UNICEF brief, that doesn't necessarily mean things are going to get better at all. In fact, disease becomes a huge issue."
The couple toured the center with Danish royals Prince Frederik and Princess Mary.
The Duchess, in burgundy Ami coat by LK Bennett, spoke with Isaac Maina, a worker for UNICEF, as they packed supplies for the struggling region. "She told me they are going to Kenya soon," said Maina.
The visit to Denmark came about after William and Kate, both 29, reached out to the Danish royals. "The Duke and Duchess have been following the crisis for a long time and wanted to do something outside Britain and this was the obvious place to come," says a Palace spokesman.
by : people