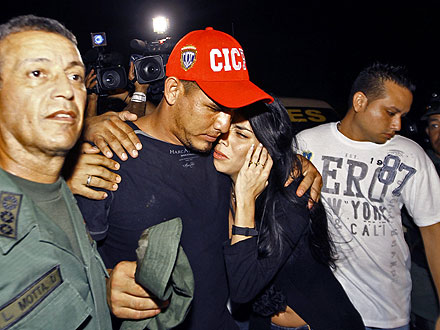 Kidnapped major league baseball player Wilson Ramos, a catcher for the Washington Nationals, was rescued in Venezuela Friday under heavy gunfire, and Saturday he shared details of his harrowing ordeal.
Even as Venezuelan security forces raided the mountain hideaway where he was kept, Ramos – who was abducted by armed men Wednesday in his home country – said he knew he wasn't completely safe.
"The truth is, at the moment they came to get me I was very nervous. There were many gunshots. ... Thanks to God, those guys did a tremendous job. I'm super grateful to them," Ramos told Venezuelan state TV Saturday, according to an AP report.
The catcher, 24, has played 113 games for the Nationals as a rookie in 2011. He is revered in Venezuela, where baseball fans waved placards demanding his release and players wore green armbands in solidarity, Reuters reports.
Kidnappers have been known to target the families of wealthy athletes in Venezuela in the hopes of getting a ransom. This is reportedly the first abduction of an MLB player there.
A "Miracle" Rescue
"I lay there and it was pretty hard for me, to think about getting out of this alive first of all, about how my family were doing, about my mother," Ramos, who was kept in a room in mountains not far from his family home in Valencia, said.
During his captivity, he said, the gunmen didn't share much about their plans.
"The truth is that I don't know who they were," Ramos said. "Basically, three guys grabbed me here at my house, they transferred me to another truck and then they took me and put me up in the mountains. They didn't say anything to me, only that they were going to work together to ask for a lot of money for me."
"But," he said, "the truth is that they told me absolutely nothing else."
Justice Minister Tareck El Aissami announced on Friday night that Ramos was "safe and sound" but didn't elaborate on any possible injuries from the rescue. Five men were arrested in the kidnapping, including a Colombian "linked to paramilitary groups and to kidnapping groups," El Aissami said, according to the Associated Press.
As for Ramos, who was in Venezuela to play baseball in the off-season, "As soon as I feel all right, I'm going to start playing," he said. "They didn't physically harm me, but psychologically I underwent very great harm."
by :people